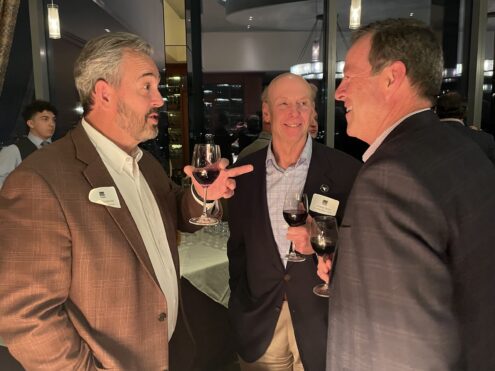 Our Mission
The Real Estate Group of Atlanta (REGA) is a Georgia non-profit corporation founded in 1989 to provide a forum for education on issues of interest to the Atlanta commercial real estate industry, and to provide career-building and networking opportunities to advance members' success in the community.
Our Membership
REGA's bylaws limit membership to 150 members. Membership consists of a diverse group of individuals that have achieved a high level of experience within some facet of the commercial real estate industry.
Members are typically in the mid-point of their careers; not fresh out of school, nor found in the chairman's office, but professionals who can most appreciate furthering their careers through education and networking.
Importantly, REGA is very selective in its membership; prospects must formally apply for membership, and be screened and approved by the Board of Directors. REGA focuses on core real estate industry disciplines such as development, financial institutions, brokerage firms and professional services firms. The Board strives to maintain a balance in the mix of members and their representative companies, while effectively screening out vendors and those prospects only tangentially related to commercial real estate.
Monthly Meetings
REGA holds monthly meetings for members and guests in the evenings, typically the third Tuesday of every month, with the exception of summer break. Locations vary, but are typically held in the Buckhead Club in the Sovereign Building. Each meeting begins with networking and cocktails, followed by a speaker presentation.
Meetings are complimentary to members, and generally $75 for guests.
Discussion topics include current events, industry trends, personal management and career development. REGA's January meeting is reserved for a local real estate and economic forecasting assessment.
To foster an open and vibrant discussion of presentation topics, REGA does not allow the media to attend meetings or join as members.
Corporate Sponsorship
REGA is entirely funded by our local members and sponsors. As we are an independent, Atlanta-based organization, we do not have a national organization to rely upon for financial support. Your corporate sponsorship dollars provide you with premium visibility at our meetings and events. At the same time, they allow REGA to bring the best networking opportunities and speakers to our members.
Annual Dinner
A celebratory, members-only annual dinner is held in May. Previous keynote speakers include Governor Brian Kemp, Senator Johnny Isakson, Truett Cathy, Ron Terwilliger, Leo Wells, Tom Cousins, Secretary of State Karen Handel and Governor Nathan Deal.